While making a move to a new house, the packing of fragile items is of utmost importance. If proper consideration is not taken, chances are you might damage your dear items forever.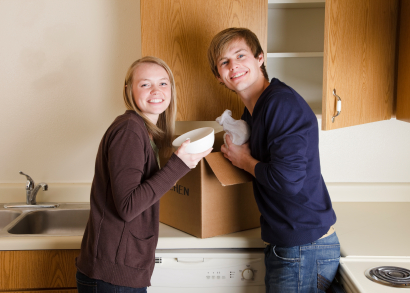 Making a Power List
Prepare in advance with a list of items that are dear to you. So the plates, glasses, lamps, crystals, frames and any delicate item should all be there in the list. Make sure you check the list before you think you have packed it all. Any item that holds "sentimental value" for you must be on the list.
Sourcing the right materials
To pack up your items make sure that you have all the materials required. From bubble wrap, shredded paper, foam sheets to tape guns and packing paper. When you have all the material handy, packing your fragile items will be a piece of cake.
Materials to use and avoid
Use of shredded paper can be made to add that layer of extra protection. It will ensure that your fragile items do not move easily inside the boxes during the transit. Before placing the fragile items in the box, it is a good idea to make a layer of shredded paper first. Use of foam sheets also helps to pack the fragile items properly. However you might be tempted to use old newspapers and towels to pack your items. This can be a rather risky affair, as the items can get dirty with the old print and you might end up spending a lot of time cleaning them. Towels and bed sheets also do not provide the stability that the bubble wrap does. So make a wise investment in getting the right packing materials.
Item-wise packing
You will have to be smart and pick up the right material for packing your delicate items. Like for an odd shaped crystal bowl, you will need to bubble wrap it completely and then tape it from all the sides. The set of plates should also be bubble wrapped and use crumpled packing paper in between the plates. For glasses you can use the same method as plates and you can also use crumpled paper to make sure that there is no extra space in each glass. Place a lot of packing paper in the bottom and then start placing the glasses inside. Make sure that the heavier ones are placed at the bottom and the lighter ones are kept above. For your funky lamps, flatten the lampshade and pack it with enough paper so that it does not get damaged. You can pack the base of the lamp separately and if it is breakable then it is better to bubble wrap it. You can use a different box and then put other non-essential items in it. The best of our memories are often stored in the frames and is very dear to us. So that you don't end up scratching it first, wrap each frame with packing paper. Place packing paper between each frame and make sure you use ample amounts of paper in the bottom and at top of the box as well. For bigger frames, bubble-wrap the frames first and then use a blanket to cover them properly. The bigger frames will need to be shifted separately and do not forget to add a big sticker of "fragile".
After you have packed all the items and packed the boxes, start putting the labels of fragile. By taking these small measures you are assured that your items will be moved safely to your new house.
By: Ella Andrews
Bio: Ella Andrews is dedicated writer and blogger, who has great flair for home improving and home maintenance projects. She is constantly searching for new sources of inspiration. Presently she contributes articles mainly on removals related thematic, as this is what motivates her most. For more helpful tips and tricks, visit: http://www.movingservicesremovals.co.uk/removals/W10-movers-ladbroke-grove.html
Moving Resources